Industry news, expert analysis, and daily updates on the most significant insurance coverage legal developments—from the insurance and legal experts of The National Underwriter Company.



Homeowners Insurance
In Force-Placed Insurance Case, Georgia Supreme Court Asked to Decide Applicability of "Filed Rate Doctrine"
In a case involving force–placed insurance brought by a mortgage borrower on behalf of a class of borrowers, a federal district court in Georgia has asked the Georgia Supreme Court to decide: "Whether the Filed Rate Doctrine applies to bar claims whose requested relief necessarily challenges rates filed with the Georgia Insurance Commissioner." Read More
Professional Liability Insurance
Law Firm's Failure to Timely Notify Insurer Dooms Its Claim for Coverage of Malpractice Suit, Circuit Rules
The U.S. Court of Appeals for the Seventh Circuit has affirmed a district court's decision that a law firm had not timely informed its professional liability insurer of "any circumstance, act or omission that might reasonably be expected to be the basis of" a malpractice claim by its client, dooming its efforts to obtain coverage for the claim that the client ultimately filed against it.
Read More
Commercial Umbrella
No Coverage under Umbrella Policy where Insured Took 2 1/2 Years to Provide Notice
An intermediate appellate court in New York has reversed a trial court's decision and found that an insured's 2 1/2 year delay in notifying its umbrella insurer of an automobile accident vitiated coverage under that policy.
Read More
Automobile Insurance
Circuit Confirms that "Underinsured" Requires Coverage of Less than $100,000
The U.S. Court of Appeals for the Eighth Circuit has affirmed a district court's decision in favor of an insurer, finding that its underinsured motorist coverage did not cover its insured's claim because the other driver's liability insurance bodily injury limit was not "less than" $100,000 as required by its definition of "underinsured automobile." Read More
---
View All
Case Law Developments

Insurance Fraud
Anatomy of a "Massive Disability Insurance Fraud"
The U.S. Attorney for the Southern District of New York, Preet Bharara, has brought charges against 32 individuals in what he has characterized as a "massive disability insurance fraud" scheme involving the Long Island Rail Road and the U.S. Railroad Retirement Board in which LIRR workers claimed to be disabled upon early retirement so that they could receive disability benefits to which they were not entitled.
Read More
Insurance Fraud
Insurance Agent Charged in Connection with Alleged Health Insurance Scheme
An insurance agent in Westchester County, New York, has been arrested on charges of grand larceny for allegedly taking $62,000 in commissions from the enrollment of more than 400 people in a phony category of insurance that did not exist. Read More
---
View All
Legislative/Regulatory Developments

Steven A. Meyerowitz, ESQ.
Director, FC&S Legal
Victoria Prussen Spears, ESQ.
Associate Director, FC&S Legal

FC&S Legal Editorial Advisory Board

Mitchell J. Auslander, Willkie Farr & Gallagher LLP
Carrie Cope, Schuyler, Roche & Crisham, P.C.
Anjali C. Das, Wilson Elser
John F. Finnegan, Chadbourne & Parke LLP
Michele L. Jacobson, Stroock & Stroock & Lavan LLP
Timothy P. Law, Reed Smith LLP
Donald S. Malecki, Malecki, Deimling, Nielander & Associates, LLC
Cort T. Malone, Anderson Kill & Olick, P.C.
Richard D. Milone, Kelley Drye & Warren LLP
Joseph P. Monteleone, Tressler LLP
Anne M. Murray, Rivkin Radler LLP
Jerold Oshinsky, Jenner & Block
Seth B. Schafler, Proskauer Rose LLP
David D. Thamann, The National Underwriter Company
United Heritage Acquires Merced Property & Casualty
Read More
ACE Completes Acquisition of Mexican Surety Lines Company Fianzas Monterrey
Read More
Nippon Life Insurance to Acquire Stake in Post Advisory Group
Read More
NEW PRODUCTS
Travelers Launches New Coverage for Medical Technology Companies Read More
PEOPLE
Need something to go here..Need something to go here...Need something to go here Read More

View All Industry News
NEWLY UPDATED!
Insurance Forms & Resources


Commercial General Liability,
April 2013 Edition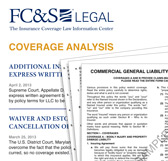 Browse our entire library of over 2,500 resources and forms.

---
CALENDAR
NAIC Spring 2013 National Meeting
Read More
Verisk Insurance Solutions Customer Conference 2013
Read More
NNAIC National Meeting
Read More

View Full Calendar
---
INSURANCE COVERAGE LAW REPORT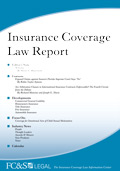 Focus On: Insurability of TCPA Awards and Punitive Damages
Read More
Insurance Appraisals Can Resolve Disputed Property and Business Interruption Claims
Read More
Who? What? When? "Ware"—An Illinois Appellate Court Addresses the "Number of Occurrences" Issue
Read More

View Entire April Insurance Coverage Law Report
View Insurance Coverage Law Report Archives
---
CONTACT US:
Customer Service:
1-800-543-0874
Email:
customerservice@sbmedia.com