Industry news, expert analysis, and daily updates on the most significant insurance coverage legal developments—from the insurance and legal experts of The National Underwriter Company.


Employee Benefits
U.S. Supreme Court: Federal Insurance Law Preempts Virginia Law Providing that Divorce Decree Automatically Revokes Insured's Prior Designation of Spouse as Beneficiary
The U.S. Supreme Court has ruled that the Federal Employees' Group Life Insurance Act of 1954 preempted a Virginia law that addressed the situation in which an employee's marital status has changed, but the employee did not update his or her beneficiary designation before dying, by rendering a former spouse liable for insurance proceeds to whoever would have received them under applicable law but for the beneficiary designation. The decision is likely to have significant practical implications: the total amount of FEGLI insurance coverage in force, in 2010, was $824 billion. Read More

Worker's Compensation
New Mexico Supreme Court Rules Undocumented Workers Entitled to Benefits Where Employer Failed to Follow Federal Hiring Rules
The New Mexico Supreme Court has held that employers that cannot demonstrate good faith compliance with federal law in the hiring process cannot use the undocumented status of their workers as a defense to payment of modifier benefits under the New Mexico Workers' Compensation Act. In particular, it ruled that an employer that did not properly fill out an I–9 Form and demand necessary documentation, as required, either should have known or was deemed to have known that the worker would likely be undocumented and ineligible for rehire in the event of injury. Read More
Health Insurance
Newborn's Hospital Costs Not Covered Where Mom Failed to Ask Insurer to Add Him to Policy, California Appeals Court Holds
Reversing a trial court's decision, a California appellate court has ruled that an insured's failure to notify her health insurance carrier that she wanted to add her newborn baby to the policy doomed her efforts to obtain coverage for hospital and other costs incurred by the baby six weeks after his birth. Read More

Commercial General Liability
Appeals Court Applies Provision Limiting Coverage of Policy Despite Its Location in Specific Endorsement
A Massachusetts appellate court has ruled that a provision in an endorsement that stated that it limited coverage under the "policy" limited coverage under the policy, and not just under the endorsement. Concluding that the policy was unambiguous, the appellate court found that the language that limited the coverage provided under "the policy" served as a limitation on all the policy's coverages, not only on "Coverage D." Read More

---
View All
Case Law Developments

Worker's Compensation
Pennsylvania Certifies 149 Lawyers as Workers' Compensation Law Specialists
The Pennsylvania Bar Association's Workers' Compensation Law Section has certified 149 lawyers as specialists in that area of legal practice.
Read More
Commercial Property
Florida Insurance Commissioner Fines Universal Property & Casualty Insurance
Florida Insurance Commissioner Kevin McCarty has issued an order for Universal Property & Casualty Insurance Company that, he said, addressed issues related to the Office of Insurance Regulation's target market conduct final examination report. Read More
---
View All
Legislative/Regulatory Developments

Steven A. Meyerowitz, ESQ.
Director, FC&S Legal
Victoria Prussen Spears, ESQ.
Associate Director, FC&S Legal

FC&S Legal Editorial Advisory Board

Mitchell J. Auslander, Willkie Farr & Gallagher LLP
Carrie Cope, Schuyler, Roche & Crisham, P.C.
Anjali C. Das, Wilson Elser
John F. Finnegan, Chadbourne & Parke LLP
Michele L. Jacobson, Stroock & Stroock & Lavan LLP
Timothy P. Law, Reed Smith LLP
Donald S. Malecki, Malecki, Deimling, Nielander & Associates, LLC
Cort T. Malone, Anderson Kill & Olick, P.C.
D. Milone, Kelley Drye & Warren LLP
Joseph P. Monteleone, Tressler LLP
Anne M. Murray, Rivkin Radler LLP
Jerold Oshinsky, Kasowitz, Benson, Torres & Friedman LLP
Seth B. Schafler, Proskauer Rose LLP
David D. Thamann, The National Underwriter Company
INDUSTRY NEWS
Fairfax Financial to Acquire American Safety Insurance for $29.25 per Share
Read More
Insured Value of U.S. Coastal Properties Exceeds $10 Trillion, Report Finds
Read More
XL Group Creates Global Emerging Markets Unit within Reinsurance Operations
Read More
NEW PRODUCTS
USA Business Insurance Announces New Auto Repair and Mechanic Shop Insurance
Read More
PEOPLE
Navigators Names Glen M. Bronstein as U.S. Chief Claims Officer
Read More

View All Industry News
---
CALENDAR
Employment Practices Liability Insurance
Read More
HarrisMartin's Superstorm Sandy Insurance Coverage Litigation Conference
Read More
Asbestos Claims & Litigation
Read More

View Full Calendar
---
INSURANCE COVERAGE LAW REPORT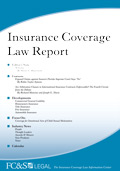 Focus On: Inadvertent Omission of Exclusion Created Only the Appearance of Coverage, Circuit Finds in Upholding Decision Overturning Jury Verdict in Insured's Favor
Read More
State Responses to Superstorm Sandy and Other Natural Disasters: Implications for Ceding Companies and their Reinsurers
Read More
Insurance Certificates and Evidence of Insurance for Lease Transactions
Read More

View Entire June Insurance Coverage Law Report
View Insurance Coverage Law Report Archives
---
CONTACT US:
Customer Service:
1-800-543-0874
Email:
customerservice@sbmedia.com