Industry news, expert analysis, and daily updates on the most significant insurance coverage legal developments—from the insurance and legal experts of The National Underwriter Company.


Employee Benefits
4th Circuit: Insurer Must Pay AD&D Benefits to Beneficiary of Drunk Driver Killed in Crash
Finding the term "accident" as applied to a claim arising from a drunk driving crash to be "ambiguous," the U.S. Court of Appeals for the Fourth Circuit has ordered an insurer to pay accidental death and dismemberment benefits under two ERISA benefits plans to the widow of a drunk driver. The circuit court pointed out that the insurer could have defined "accident" or even imposed a limitation on benefits for any loss resulting from the insured's driving with a blood alcohol content above the legal limit of the state in which the vehicle was driven. Instead, it ruled, the policy language left "accident" undefined and "susceptible to more than one interpretation. Read More

Fire Insurance
Lease Did Not Expressly Rebut Presumption that Landlord and Tenant Were Coinsureds under Landlord's Fire Policy, Nebraska's Top Court Rules
The terms of a lease between a landlord and a tenant did not permit an action by the landlord's insurer against the tenant for fire damages allegedly caused by the tenant's negligence, the Nebraska Supreme Court has held. It concluded that the provisions of the lease were insufficient to overcome the presumption that the tenant was a coinsured under the landlord's fire insurance policy and the landlord and his insurer therefore could not bring a subrogation action against the tenant. Read More
Automobile Insurance
No-Fault Law Does Not Require Insurer to Pay Entire Cost of Modifying Van for Insured's Wheelchair, Michigan's Top Court Holds
The Supreme Court of Michigan has held that the state's no-fault insurance act did not require an insurer to pay the entire cost of a van modified to accommodate the insured's wheelchair, including both the base price of the van and the separately introduced modifications, but only required that the insurer pay for the modifications. Read More

Automobile Insurance
Eighth Circuit Finds Policy Had Been Properly Canceled for Nonpayment Days Before Insured and Person in His Car Were Killed
The U.S. Court of Appeals for the Eighth Circuit has affirmed a district court's decision that an insurance company had canceled an automobile policy effective four days before the insured and a passenger in his car were killed in an accident. Read More

---
View All
Case Law Developments

Insurance Fraud
Louisiana Life Insurance Agent Who Led "Rebating" Life Insurance Fraud is Sentenced to Prison
Timothy R. Schlatre, a life insurance agent in Louisiana for New York Life and Lincoln Financial, has been sentenced to 57 months in prison for his creation and execution of a scheme to defraud life insurance companies, including New York Life and Lincoln Financial.
Read More
Automobile Insurance
Florida Amends Jury Instructions on Introduction of Uninsured/Underinsured Insurers
The Florida Supreme Court has approved changes to standard jury instructions to provide for the introduction of a defendant uninsured or underinsured motorist insurance carrier where applicable. Read More
---
View All
Legislative/Regulatory Developments

Steven A. Meyerowitz, ESQ.
Director, FC&S Legal
Victoria Prussen Spears, ESQ.
Associate Director, FC&S Legal

FC&S Legal Editorial Advisory Board

Mitchell J. Auslander, Willkie Farr & Gallagher LLP
Carrie Cope, Schuyler, Roche & Crisham, P.C.
Anjali C. Das, Wilson Elser
John F. Finnegan, Chadbourne & Parke LLP
Michele L. Jacobson, Stroock & Stroock & Lavan LLP
Timothy P. Law, Reed Smith LLP
Donald S. Malecki, Malecki, Deimling, Nielander & Associates, LLC
Cort T. Malone, Anderson Kill & Olick, P.C.
D. Milone, Kelley Drye & Warren LLP
Joseph P. Monteleone, Tressler LLP
Anne M. Murray, Rivkin Radler LLP
Jerold Oshinsky, Kasowitz, Benson, Torres & Friedman LLP
Seth B. Schafler, Proskauer Rose LLP
David D. Thamann, The National Underwriter Company
INDUSTRY NEWS
John R. Charman Elected Chairman and Chief Executive Officer of Endurance
Read More
Neill A. Currie Retires from RenaissanceRe Holdings, which Appoints Kevin J. O'Donnell as CEO and Director
Read More
Insurance is Key to Fostering Economic Growth and Investment in the Middle East and North Africa, Zurich Report Says
Read More
NEW PRODUCTS
Marsh Launches Marsh Delta D&O to Protect from Rising Management Liability Risks
Read More
PEOPLE
Jerold Oshinsky and Linda Kornfeld Move to Kasowitz
Read More

View All Industry News
---
CALENDAR
SIIA International Conference
Read More
Employment Practices Liability Insurance
Read More
HarrisMartin's Superstorm Sandy Insurance Coverage Litigation Conference
Read More

View Full Calendar
---
INSURANCE COVERAGE LAW REPORT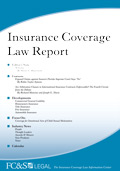 Focus On: Coverage for Law Firm Victimized in Check Scam
Read More
Is Defective Construction an "Occurrence"? The Answer Isn't So Concrete
Read More
Insurance Coverage for Internet Copyright Claims
Read More

View Entire May Insurance Coverage Law Report
View Insurance Coverage Law Report Archives
---
CONTACT US:
Customer Service:
1-800-543-0874
Email:
customerservice@sbmedia.com