Industry news, expert analysis, and daily updates on the most significant insurance coverage legal developments—from the insurance and legal experts of The National Underwriter Company.



Personal Lines
Circuit Affirms Decision Allowing Insurer to Retain Policy Premium as Damages Despite Policy's Recission
The U.S. Court of Appeals for the First Circuit has affirmed a district court's decision allowing an insurance carrier to retain policy premiums as damages even where the life insurance policy was rescinded. The Case: PHL Variable Insurance Company brought an action to rescind a life insurance policy and for special damages incident to the rescission of that policy. The district court found that the defendant, The P. Bowie 2008 Irrevocable Trust, by and through its trustee, Louis E. Baldi, had made false representations to induce PHL to issue the policy.
Read More
Crime and Employee Dishonesty
Wife Not an Employee in Husband's Dental Office for Purposes of Policy's "Employee Dishonesty" Provision, Court Rules
A wife working in her husband's dental office was not an employee within the meaning of his insurance policy's "employee dishonesty" provision, and he therefore was not covered for losses allegedly suffered when she stole money from his practice, a federal district court in Alabama has ruled. The Case: Dr. Kenneth Chancey alleged that his ex-wife had stolen over $25,000 from his dental practice while they were married and she was performing the duties of an office manager. He filed a claim with The Cincinnati Insurance Companies.
Read More
Automobile Insurance
Alleged Misrepresentations during Presentation of Claim Doom Insured's Bad Faith Suit
A federal district court in California has dismissed an insured's bad faith claim against his insurer, finding that when the insurer denied the claim, it had a reasonable and legitimate basis for believing that the insured was concealing or misrepresenting material facts in connection with his claim.
Read More
Professional Liability Insurance
Insurer's Default Judgment against Insureds Collaterally Estops Their Judgment Creditor's Action against Insurer
A default judgment obtained by an insurer against its insureds acted to collaterally estop an action brought by their judgment creditor against the insurer, a federal district court in Georgia has ruled. The Case: In a declaratory judgment action against Vincent Fitzgerald, Rhett Burruss, and their law firm, Fitzgerald and Burruss, LLC, Hartford Accident and Indemnity Company obtained a default judgment from the U.S. District Court for the Northern District of Georgia that it had no duty to provide coverage under a professional liability policy and that the policy was rescinded.
Read More
---
View All
Case Law Developments

Personal Lines
California Sues Texas Life Insurer over Unclaimed Property Law
The Securities and Exchange Commission and the Financial Industry Regulatory Authority have issued an investor alert entitled "Pension or Settlement Income Streams — What You Need to Know Before Buying or Selling Them."
Read More
Health Insurance
Data Show Wide Range in Hospital Charges
The U.S. Department of Health and Human Services has released data that shows significant variation across the country and within communities in what hospitals charge for common in-patient services. Read More
---
View All
Legislative/Regulatory Developments

Steven A. Meyerowitz, ESQ.
Director, FC&S Legal
Victoria Prussen Spears, ESQ.
Associate Director, FC&S Legal

FC&S Legal Editorial Advisory Board

Mitchell J. Auslander, Willkie Farr & Gallagher LLP
Carrie Cope, Schuyler, Roche & Crisham, P.C.
Anjali C. Das, Wilson Elser
John F. Finnegan, Chadbourne & Parke LLP
Michele L. Jacobson, Stroock & Stroock & Lavan LLP
Timothy P. Law, Reed Smith LLP
Donald S. Malecki, Malecki, Deimling, Nielander & Associates, LLC
Cort T. Malone, Anderson Kill & Olick, P.C.
D. Milone, Kelley Drye & Warren LLP
Joseph P. Monteleone, Tressler LLP
Anne M. Murray, Rivkin Radler LLP
Jerold Oshinsky, Jenner & Block
Seth B. Schafler, Proskauer Rose LLP
David D. Thamann, The National Underwriter Company
INDUSTRY NEWS
Q–Re Announces New Management Team
Read More
NTSB Recommends Slashing Blood Alcohol Limits to Eliminate Alcohol-Impaired Driving
Read More
Climate Change and the Insurance Industry
Read More
NEW PRODUCTS
MetLife Auto & Home Launches Expanded Identity Protection Services Including Social Media Compromise
Read More
PEOPLE
Endurance Welcomes New E&S Excess Casualty Insurance Team
Read More

View All Industry News
---
CALENDAR
9th Annual Canadian Captives & Corporate Insurance Strategies Summit
Read More
NYIA 2013 Annual Conference
Read More
Regulatory and Litigation Challenges to Lender-Placed Insurance
Read More

View Full Calendar
---
INSURANCE COVERAGE LAW REPORT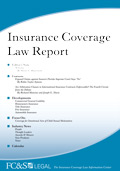 Focus On: Coverage for Law Firm Victimized in Check Scam
Read More
Is Defective Construction an "Occurrence"? The Answer Isn't So Concrete
Read More
Insurance Coverage for Internet Copyright Claims
Read More

View Entire May Insurance Coverage Law Report
View Insurance Coverage Law Report Archives
---
CONTACT US:
Customer Service:
1-800-543-0874
Email:
customerservice@sbmedia.com