Industry news, expert analysis, and daily updates on the most significant insurance coverage legal developments—from the insurance and legal experts of The National Underwriter Company.



Professional Liability Insurance
Court Finds No Coverage for False Claims Act Suit against Insured
A federal district court has ruled that a professional liability insurance policy did not provide coverage to the insured for a lawsuit alleging that it had violated the federal False Claims Act.
Read More
Commercial General Liability
All Claims against Employer Related Directly to Security Guard's Alleged Assault and Battery and Were Excluded from Coverage, Court Rules
A federal district court in Florida has ruled that all claims against an employer — including ones pleaded in the "language of negligence" — related directly to a security guard's alleged assault and battery and therefore were excluded from coverage under the employer's commercial general liability insurance policy.
Read More
Commercial General Liability
Montana Supreme Court Upholds $3 Million Judgment against Insurers Stemming from Girl's Suicide at "Tough Love Facility
The Montana Supreme Court has upheld a judgment against a commercial general liability insurer and an excess insurer stemming from a girl's suicide at a "tough love" facility, rejecting the insurers' reliance on (i) exclusions for "professional services" and "designated" or "excluded operations," (ii) the absence of an occurrence, and (iii) late notice.
Read More
Exclusions
Pollution and Health Hazard Exclusions Do Not Bar Coverage for Interior Damage Allegedly Caused by Chinese Drywall, Court Rules
A federal district court in Florida has ruled that two insurance policies' pollution and health hazard exclusions did not bar coverage for claims alleging that imported Chinese drywall sold by the insured had caused damage to the interior of various residences.
Read More
---
View All
Case Law Developments

TRIA
Bill Would Extend TRIA for 10 Years
Rep. Bennie Thompson (D-MS) has introduced a bill to extend the Terrorism Risk Insurance Act for 10 years.
Read More
Insolvent Insurers
Lumbermens Mutual Casualty, American Manufacturers Mutual Insurance, and American Motorists Insurance Companies Placed in Liquidation
Orders of liquidation with findings of insolvency have been entered against Lumbermens Mutual Casualty Company, American Manufacturers Mutual Insurance Company, and American Motorists Insurance Company by the Circuit Court of Cook County, Illinois. Read More
---
View All
Legislative/Regulatory Developments

Steven A. Meyerowitz, ESQ.
Director, FC&S Legal
Victoria Prussen Spears, ESQ.
Associate Director, FC&S Legal

FC&S Legal Editorial Advisory Board

Mitchell J. Auslander, Willkie Farr & Gallagher LLP
Carrie Cope, Schuyler, Roche & Crisham, P.C.
Anjali C. Das, Wilson Elser
John F. Finnegan, Chadbourne & Parke LLP
Michele L. Jacobson, Stroock & Stroock & Lavan LLP
Timothy P. Law, Reed Smith LLP
Donald S. Malecki, Malecki, Deimling, Nielander & Associates, LLC
Cort T. Malone, Anderson Kill & Olick, P.C.
D. Milone, Kelley Drye & Warren LLP
Joseph P. Monteleone, Tressler LLP
Anne M. Murray, Rivkin Radler LLP
Jerold Oshinsky, Jenner & Block
Seth B. Schafler, Proskauer Rose LLP
David D. Thamann, The National Underwriter Company
INDUSTRY NEWS
Prepared Names Stephanie Siewert Chief Operating Officer
Read More
Companies Not Sufficiently Prepared to Cope with Natural Catastrophes, Zurich Study Finds
Read More
Insurance Coverage for Invasion of Privacy Claims
Read More
NEW PRODUCTS
Zurich Announces New Coverage for Non-Profit Long Term Care Organizations
Read More
PEOPLE
Kemper Names Elizabeth Bock as Property & Casualty Group CFO
Read More

View All Industry News
---
CALENDAR
9th Annual Canadian Captives & Corporate Insurance Strategies Summit
Read More
NYIA 2013 Annual Conference
Read More
Regulatory and Litigation Challenges to Lender-Placed Insurance
Read More

View Full Calendar
---
INSURANCE COVERAGE LAW REPORT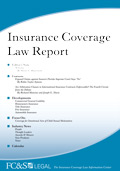 Focus On: Coverage for Law Firm Victimized in Check Scam
Read More
Is Defective Construction an "Occurrence"? The Answer Isn't So Concrete
Read More
Insurance Coverage for Internet Copyright Claims
Read More

View Entire May Insurance Coverage Law Report
View Insurance Coverage Law Report Archives
---
CONTACT US:
Customer Service:
1-800-543-0874
Email:
customerservice@sbmedia.com