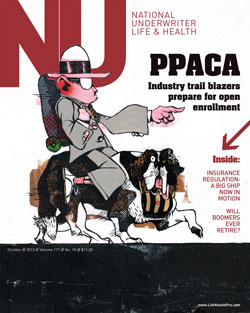 The state of insurance regulation today and beyond, the Gen X coverage gap and why Ben Lawsky should let bygones be bygones.

INSURANCE REGULATION: A BIG SHIP NOW IN MOTION
SIFI, NARAB, PBRs and captives — all represent major turning points for an industry in a state of regulatory reform. Read More

SALES OF FIXED ANNUITY PRODUCTS JUMP IN Q2
Propelled by an improved interest rate environment, Q2 fixed annuity sales posted sequential gains for the first time in two years. Read More
Will PPACA flood the benefits market with P-rays, creating illusions of a utopian universe — or a dystopian nightmare? Read More

Enjoy!
Emily Holbrook
Executive Managing Editor
---
Sign up to receive LifeHealthPro's eNewsletters delivered right to your inbox FREE!